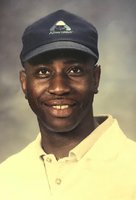 Cedric Dewayne Davis
Cedric Dewayne Davis, age 48 years, of Queen City , passed away on Friday February 16, 2018 at her residence.

Cedric was born in Texarkana, Texas on Monday March 17, 1969, son of the late Albert and the late Patricia Sanders. Cedric worked as a certified Butcher.
Survivors:

• Cedric Jr. Davis
• Marquana Davis
• Demetria Rutherford
• Jason Rutherford
• Chris Sanders
• Brent Rutherford
• Shirley Howard
• Willie Sanders
• A Host of


Funeral Service will be held on Saturday, Feb 24 from 1:00 PM at Mt. Grove Baptist Church 2801 Arkansas Blvd., Texarkana
Visitation / Wake will be held on Friday, Feb 23 from 5:00 to 7:00 PM at Richardson Hill Funeral Home 1104 Oak St., Texarkana

Services will be officiated by Overseer Kenneth Reid.
.