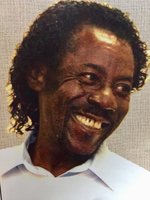 Willie Smith Jr.
Willie Jr. (DICK) Smith, age 68 years, of Foreman, passed away on Saturday February 17, 2018 at his residence.

Willie Jr. was born in Foreman, Arkansas on Sunday June 12, 1949, son of Isiah and Rena (Brown) Brown. Willie Jr. worked as a Truck Driver.
Survivors include: His loving wife Shirley Smith of Foreman, Arkansas. (5) Daughters Kashandra Meadows of Texarkana, Tx; Patty Hankins of Texarkana, Ar; Shenyce Young of Oklahoma City, OK; Nemesha Wilson of Foreman AR; Sherrye Tate of Phoenix, AZ.(5) Sons William Manning f Texarkana, AR; Demarcus Bragg of Texarkana, TX; William Bragg of Okinawa, Japan; Michael Brown of Peoria, AZ; Demetrius Haskins of Phoenix AZ. His Loving Mother that God has blessed to see 93 years of life Mrs. Rena Mae Smith of Foreman AR; (5) brothers Edddie Dean Smith, Leon Smith, Eddie Lee Smith, Wadie Smith, William Smith Jr, all of Foreman, AR; (3) Sisters Lilly B. Smith of New Boston,TX Shelly Queen of Foreman, AR; Jean Threadgill of Stratford, CA


Funeral Service will be held on Saturday, Feb 3 from 2:00 PM at St. Rest Baptist Church 2111 Hiway 32 W, Ashdown
Willie Jr.'s Funeral Service will take place on Saturday, Mar 3 at 2:00 PM at St. Rest Baptist Church 2111 Hiway 32 W, Ashdown
The body will Lay in State from 1:00-2:00pm for viewing.

Services will be officiated by Rev. Ronnie Keener.