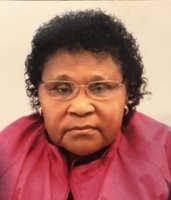 Aline C. Howard
Mrs. Aline C. Howard 67, was born on April 22, 1951 in Atlanta, Texas. She passed away on July 08,2018 in Fort Worth, Texas. She was a member of the St. John Divine Missionary Baptist Church.
She leaves to cherish her memories:
Husband: Osborn E. Howard of Bivins, TX
2 Daughters: Brandi D. Howard of Texarkana, TX and Olivia E. Howard of Marshall, TX.
2 Sisters: Jewaline Smith of Tuscola, TX and Charlene Coleman of Bivins, TX
As well as a host of many other relatives and friends.