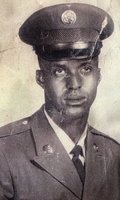 Johnny Oliver
Johnny Ray Oliver 71, was born on July 13,1947 in Atlanta, TX. He passed away on April 01,2019 in Texarkana, TX. Mr. Oliver served in the U.S. Army for many years.
He leaves behind..
2 Daughters: Latasha Cox of Texarkana, TX. Chanda Cox of Arlington, TX.
Mother: Martha Oliver of Austin, TX.
2 Brothers: Herbert (Enuice) Davis Jr of Fort Worth, TX. Willie Oliver of Jerrell, TX.
1 Sister: Joyce Davis of Jerrell, TX.
Special neices: Neciey, Mashika, & LaDawn
Special nephews: Lamont & James
As well as a host of neices, nephews, friends, great-grandchildren and family.