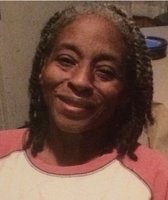 Rosie Collins Price
Rosie Collins Price 69, was born May 28,1950 in Texarkana, TX. She passed away on August 22,2019 at Wadley Hospital. She was preceded in death by her Father and Mother; Willie and Clara Price, 3 Brothers; Roy Roberts, Sammie Price, and Mark Peoples; and 1 sister Emma Lewis. She was affiliated with the New Beginnings C.O.G.I.C.
She leaves to cherish her memories:
1 Daughter: Nekie Price of Texarkana, AR.
3 Brothers: Willie Price of Dallas, TX. Tommie Price of Bettendorf, Iowa. Rodney Kindley of Texarkana, AR.
3 Sisters: Gracie Harp, Maggie Hawkins, and Clarica Price of Texarkana, AR.
2 Grandchildren and a host of many other relatives and friends.