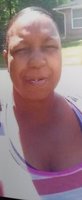 Jean Evelyn Burks
Jean Everlyn Burks age sixty-seven, went to school at Texas Senior High School and Texas Community College. She worked at Red River Army Depot and also worked at 595 as an expiditer, and 460 as a janitor. She also volunteered at the Dunbar Elementary School. She passed away at her residence on May 27,2020. She was preceded in death by Erma Jean Hanson, Tom Ray Burks, and Brenda Joyce Hill.
She leaves to cherish her memories:
Daughters: Martisha L. Burks and Antonella S. Burks of Texarkana, TX
Brothers: Marion D. Burks and Ronald R. Burks of Texarkana, Texas. Kenneth Graham and Tom Grahm of Lousiana. Tom Ray Burks Jr of Minneapolis.
Sisters: Shirley A. Burks, Charlotte A. Burks, Janice M. Burks Blake, Jacqueline E. Burks, Cynthia D. Burks, Carmen D. Burks of Texarkana, Texas. Lashonda K. Burks of McKinney, Texas.
Son-in-laws: Romeatress C. Warren & Ronald K. Cornelius of Texarkana Arkansas
As well as a host of neices and nephews.