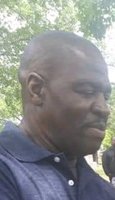 Bronderick Hudson
Bronderick Hudson 54, was born on October 10,1965 in Marietta, Texas to the parentage of Clintine Lee Henderson Sr and Bobbie J. Hudson. He departed this life on August 30,2020 in Texarkana, Texas. Mr. Hudson was affiliated with the Mt. Zion Baptist Church in Douglassville, Texas and worked for Western Waste for many years.
He leaves behind:
Mother: Bobbie J. Moore of Texarkana, Texas.
4 Brothers: Tony T. Hudson and Reginald Husdon of Texarkana, Texas. Clintine Lee Henderson Jr and Kentry Henderson of Marietta, Texas. Richard Henderson of Garland, Texas.
2 Sisters: Kenya Moore of Texarkana, Texas. Connie Henderson-Johnson of Hooks, Texas.