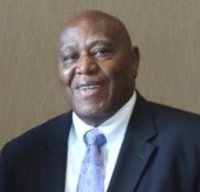 Gerald Davis Johnson Sr.
Gerald D. Johnson Sr., age 71, of Texarkana, Texas passed away on Monday, November 16, 2020. Gerald was born April 3, 1949 to Emma Richardson Johnson and Major Johnson in Domino, Texas. He was a lifelong member of Hopewell CME Church in Texarkana, TX where he lovingly served as Chairman of the Trustees and an usher. Gerald was a long-term employee of Belk-Jones Department Store and retiree of Windstream.
Gerald was preceded in death by his parents; three brothers, Alvester Nixon, Arlee Frederick and Burnett D. Beasley; and two sisters, Lois A. Lee and Victoria L. Kauffman. Gerald is survived by his loving wife of 45 years, Mary Y. Fulce Johnson of Texarkana, Texas; one son, Gerald D. Johnson Jr. of Texarkana, Texas; one daughter, Samantha J. Johnson of Irving, Texas; one brother, Vernon L. Johnson of Houston, Texas and one sister, La Verne Johnson Baptiste of Texarkana, Texas.