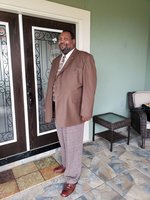 Raymond Colston
Mr. Raymond Colston, began his life on June 10, 1953 in Vain, OK to Emogene Shade Spencer and Timothy Colston. He was a member of the Burns Church of Christ in Hooks, Texas where he was a faithful and dedicated member until his call to glory. In early years he lived in Vain, OK with grandparents; Will and Alma Shade until the age of 8 years old. After which his mother moved him to Kansas City, MO where he lived and attended Paseco High School. After high school, he joined the United States Army which he loved so much that he did it twice. He attended some college courses as well. After serving the military he started another career working as a Government Contractor in Logistics over twenty-years travelling from NJ to SC. He finally made it to Texas where he retired from Red River Army Depot. He leaves the love of his life Mary Colston who he spoiled everyday of his life. Raymond was a Crusader for Christ and always ready to teach and preach the words to everyone. In his travels, he preached the Word of God and baptized many souls. He had a kind and gentle spirit in which he never met a stranger, whom he helped to meet their needs and was loved by all. His favorite thing to do was cook and everyone came to the house to eat and left with a carry out.
He leaves to cherish his memories:
Wife: Mary Jean Warren Colston of New Boston, TX.
Son(s): U.S. Major Raymond Colston Jr (Fallen) of Fort Jackson, SC.
Daughters: RaMona Colston of Kansas City, MO. LaToria Colston of Houston, TX.
Brothers: Billy Colston of Kansas City, MO. Raymond Spencer of Kansas City, MO.
Sisters: Shirley (Eddie) Burns of Kansas City, MO.
6 Grandchildren, and 1 Great Grandchildren.