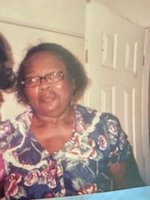 Jessie Mae Young
Jessie Mae Young Eighty One years of age born in Carbondale,TX to the parentage of the late Mr. Robert Johnson SR and Ozie Johnson. Passed away January 16, 2021 in Texarkana, TX at a local hospital. She was one of Thirteen sibilings, Ms. Young was a faithful member of Atlanta Street Church of Christ in Texarkana, TX and was employeed at the Grim Hotel as a housekeeper for many years until she retired. she was a homemaker and enjoyed spending time with her family and grandchildren. she is proceeded in death by her husband John W Young, five brothers Robert Johnson JR, John Johnson, Bobby Johnson, and Rodney Johnson. Two sisters Vernie Ellis, and Barbara Johnson and one Son Roderick Reece.
She leaves to Cherish in her memories:
1 Son: Garrick Reece of (Texarkana,TX)
5 Daughters: Sharon Young of (Texarkana, TX); Sonya Reece of (Texarkana,TX); Tawanna Reece of (Texarkana,TX) Felecia Reece of (Texarkana,TX) and Kimberly Reece of (Texarkana,TX)
3 Sisters: Gertrude Aldridge of (Texarkana,TX); Katie Turner of (Texarkana, TX) and Brenda Woods of (Des Moines, IA)
13 Grandchildren
16 Great Grandchildren
3 Great Great Grandchildren
and a host of other family and frinends.