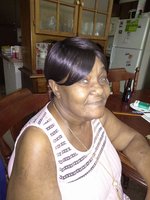 Wenderlyn Williams
Ms.Wenderlyn M. Williams, seventy, was born on October 23,1950 in Douglasville, Texas to the parentage of Booker T. Williams and Pearlie Mae Johnson. Ms. Williams was affiliated with the Mt. Orange Baptist Church and worked as a cook at St.Micheal Hospital for many years. She departed this life on February 08,2021 in Texarkana, Texas. She was preceded in death by her parents, 1 brother; LaGrande Williams and 1 Sister; Barbara Beasley.
She leaves to cherish her memories:
Son(s): Gerod Williams, Brandon (Kita) Williams, Trenton (Renee) Williams of Texarkana, Texas.
2 Daughter(s): Yarchekki Williams and Kim Williams of Texarkana, Texas.
1 Brother: Darrell Battle of Auro,Colorado.
Uncle: Jeffery Nash of Texarkana, Texas.
6 Grandchildren, 9 Great-Grandchildren, and a host of other relatives and friends.