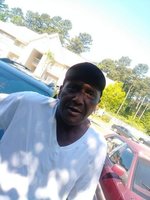 Eugene Sumler
Eugene Edward Sumler, was born on February 13, 1950 in Texarkana, Arkansas to Esau Sumler and Mebeline Maxwell. Mr. Sumler was a member of Lonoke Baptist Church. He was a loving son, father, brother, grandfather and uncle. Mr. Sumler was preceded in death by his mother; Mabeline Maxwell, father; Esau Sumler, sister; Flora Lee Sumler and brother; Sherman Sumler.
Eugene Sumler leaves to cherish his memories:
Daughter: Monica Rochelle Thornton of Hope, Arkansas
2 Grandsons: D'Montae Thornton and D'onte Thornton of Hope, Arkansas
2 Sisters: Flora Jacobs of Nashville, Arkansas and Teresa Walker of Texarkana, Arkansas
3 Brothers: James (Pauline) Hunter of Longview, Texas, Edward Walker of Nashville, Arkansas, Elmer Maxwell of Texarkana, Texas, Marian Maxwell
Uncle: Terry Maxwell of
Neices: Della Ware and Brenda Brooks
As well as several nieces, nephews, and innumerable loving friends and acquaintances.