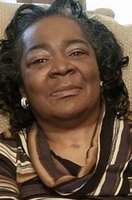 Brenda R. Keeling
Mrs. Brenda R. Keeling, sixty-three, was born on April 13,1958 in Texarkana, Arkansas. She was affiliated with the Johnson Chapel AME Church and worked as a newspaper editor for many years. Mrs. Keeling departed this earthly life on May 10,2021 in Mesquite, Texas. She was preceded in death by her parents; the late Leona Dewberry Miles and Robert Love, brothers; Wallace Baker and Whitfield "Bo" Miles.
She leaves to cherish her memories:
Son: Dorian (Meronica) Keeling of Mesquite, Texas.
Daughter: Shanika (Derrick) Booker of Forney,Texas.
Husband: Larry C. Keeling of Texarkana, Texas
Brothers: Joe (Sharon) Miles of Texarkana, Texas and Lonnie (Shelly) Miles of Newport News, Virginia.
Sisters: Izora Shaw, Nona Miles, Ora Miles and Deanna McDuffie of Texarkana, Texas.
Grandchildren: LaPrentice Keeling of Texarkana, Texas. Darion Thompson of Houston, Texas. Khaeos Keeling, Kay'Leia Nelson and Na' Torius (Brandi) Nelson of Dallas, Texas. Chloe Tasby of Terrell, Texas. Tamara Nelson of Plano, Texas.
Sister-in-law: Carolyn Miles of Hooks, Texas.
14 Great Grandchildren, As well as a host of many other relatives and friends.