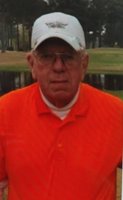 Donald Robert Moore
Donald R Moore, age seventy-six, died July 8, 2021 in Texarkana, Texas. He was born on March 23, 1945 in Bangor, Maine to the late Harley Moore Jr and Edythe Moore. Don grew up in Texarkana and attended St James Episcopal Church. He had a beautiful singing voice and was a member of the nationally acclaimed 'All Boys Choir'. He attended Texas High and sang in the choir where he earned "All State Choir" status in 1962-63. After school he worked offshore in the Gulf of Mexico. Later he joined the U.S. Army and retired after 27 years of service. Don and his Family lived around the world including assignments in Germany, Korea, and Panama. Don was a avid outdoorsman he enjoyed hunting, fishing, camping, and playing the guitar and knitting. Don's passion was golf. His daily practice sessions were focused on becoming the best golfer he could be. He became a champion golfer, winning the Texarkana City Golf Championship in 2007 & 2008. In 2009 He qualified for the Golf Channel National Championship in Florida. During his golf career, he made an amazing 16 holes-in-one and first shot his age at 67. He loved playing and competing with his buddies at New Haven Golf Club, Southwest Arkansas and East Texas Senior Golf Associations. Those that knew him will remember his beautiful singing voice, sweet golf swing and competitive personality. He is proceed in death by his wife Nancy Jean Moore, his brother Richard "Dicky" Moore, and sister Barbara Lucile Moore.
Survivors Include:
1 Son: Randy(Judy) Moore Of (Texarkana, TX)
3 Daughters: Tanya (Jeff) Gunderson of (Texarkana,TX) ; Jetta (Kevin) Osburn of (Neodesha,KS) and Lisa Marie Lusk of (Shreveport,LA)
2 Brothers: Tommy Moore Of Malvern, AR, and Randy Moore
1 Sister: Marie Elaine King of (Gurdon,AR)
Grandchidren Cameron Hooper, Devon Hooper, Isabella Gunderson, Shawn Gunderson, and Justyn Moore
Great Grandchild Elaina Hooper
As well as many cousins, nieces, nephews, and a host of friends.
A memorial golf event will be held on August 14, 2021 at New Haven Golf Club.
in lieu of flowers the family request memorials be made to Liberty Eylau Athletic Scholarship Fund or an area junior golf program.
Cremation arrangements are pending with Richardson Hill Funeral Home