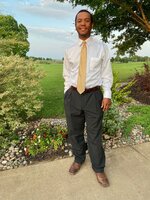 Dru Marcell Robinson
Mr. Dru Marcell Robinson, twenty-six, was born on December 26,1994 to the parentage of Dennis A. and Deshelle V. Robinson. Dru was affiliated with the West Side Baptist Church of Lewisville, Texas. Dru, an Eagle Scout from Troop 822 and Captain of the Liverpool Football Academy America. He worked as a Professional Commercial Transportation Driver for Covenant. He passed away on August 06, 2021 in Flower Mound, Texas. He was preceded in death by his Father; Dennis A. Robinson and Grandparents; William A. and Delois Robinson. Dru left cherished memories of his comedic humor and charismatic personality.
His survivors include:
Mother: DeShelle Robinson
Grandparents: Charles and Doris Williams, San Antonio, TX
Uncle: Cary Robinson of Texarkana, Texas
Brother: Tory Robinson of Omaha, NE.
Nephew: Kindric Robinson of Omaha, NE.
As well as many other relatives and friends.