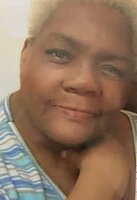 Emma Jan Lollis
Emma Jan Wrightner Lollis, was born as a triplet on November 30,1943 to Jack Wrightner and Mary Benton in Wamba, Texas. She moved to Texarkana, Texas at an early age. She attended Dunbar High School. Later she married the late Mr. Henry Lollis and went on to birth 11 children. She was a housewife, a loving mother, grandmother, great aunt, great-grandmother and sister. She loved all of her family and she would open up her heart and home to whomever needed her help. Mrs. Lollis went home to be with her siblings and Jesus on August 28,2021 at her home in Wake Village, Texas. She was preceded in death by her Mother; Mary Benton and Father; Jack Wrightner, Husband; Henry Lollis, Daughter; Debra Wrightner, Son; Robert (Bob) Lollis, 5 Sisters: Ophelia Wrightner, Mary Ann Logan, Edna Foote, Helen Wrightner, Earnestine Watson and 1 Brother; John Doc Williams.
Those who remain to cherish her memories:
3 Son(s): Ricky (Sherlyn) Lollis, Ronnie (Latrecia) Lollis and Gary Lollis.
4 Daughter(s): KaShandra Woodside-Meadows, Vickie (James) Henderson. Bobbie Lollis, Marilyn Wrightner
1 Sister: Yvonne Wrightner
As well as a host of many other relatives and friends.