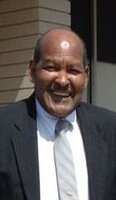 Alvin L Pinn
Alvin L Pinn, seventy-three was born on April 28, 1948 in Warrenton, VA to the parentage of the late Felix Pinn and Virgina Williams-Pinn. On October 2, 2021 he went to be with our Lord and Savior. He passed away at his home in Texarkana, Arkansas. He was a member of Twin Cities Baptist Church. He was an Army Veteran and retired as a Computer Technician. Mr. Pinn was preceded in death by his Parents and his Wife; Lillan Pinn.
He leaves to cherish his memories:
4 sons: Thomas Howcroft of Arkansas City, Ks, Scott Drown of Savannah, Ga, Kenneth Drown of San Diego, Ca and Dana Drown of San Diego, Ca.
2 Daughters: Brenda Rogge of Texarkana, Ar and Roxanne Miller Of San Diego, Ca.
2 Sisters: Kathleen Dodds of Denver, Co and Cookie Slaughter of Virgina.
10 grandchildren, and 13 Great Grandchildren and a host of family and friends.