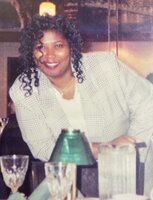 Betty Jean Atkins
Betty Jean Atkins, was born in Monroe, Louisiana on December 05,1960 to the late Herman Atkins Sr and Ruthie Lee Atkins. GOD called her home on October 30,2021. Betty accepted Christ at a young age at Shiloh Baptist Church in Joliet, IL. She attended Public Schools and graduated from Joliet Central High. Betty worked at Provena Francisican Nursing Home as a dedicated CNA over 30 years. She loved taking care of people especially her family. She is proceeded in death by her parents; Herman and Ruthie Atkins, two sisters; Lourenea and Dolores Atkins.
Betty leaves to cherish her memories:
Brothers: Herman Atkins Jr of Atlanta, Texas and Kevin Waddell of Joliet, IL.
Sisters: Alma Allen and Pamela Ratcliff of Atlanta, Texas.
Nephews: Antoine Hare Sr. of North Carolina, Thomas Garrett Jr of Houston, Texas and Zackary Atkins of Atlanta, Texas.
Nieces: Trinae Garrett of Sheboygan, WI and Precious Atkins of Hobart, IN.
Close Friends: Natalie Weeks, Joyce Hester and Margie Bailey of Joliet, IL.
Special Cousins: Christella Thomas of Winnsboro, LA and Johnnie Payne of Natchitoches, LA.
God Daughter: Johnise Herndon of Joliet, IL.
God Son: Dejon Duncan of Joliet, IL.
Along with a host of great nieces, great nephews, aunts, uncles, cousins, and friends.