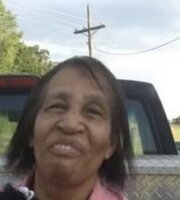 Melvina Williams
Ms. Melvina Williams, seventy-two, was born on February 18,1949 in Carthage, Texas to the parentage of Nelzie Lee Tilmon and Johnny V. Williams Sr. She departed this earthly life on October 30,2021 at a local Nursing Home in Texarkana, Texas. She was preceded in death by her Parents, one sister; Mae Helen Williams and two brothers; David Williams Sr and Aaron Williams Sr.
She leaves to cherish her memories:
Daughter: Latisha (James) Richardson of Texarkana, Arkansas.
Brothers: Johnny Williams Jr and Donald Williams of Deberry, Texas. Dwayne Williams of Memphis, TN.
Sisters: Betty (Dave) Reese and Lola Southern of Galveston, Texas. Enoris (Joseph) Adams of Palm Springs, CA. Susan (Edgar) Johnson of Keithville, LA. Linda (Billy Sr) Anderson of Deberry, Texas. Thressa Williams of Palm Desert, CA.
Along with many other relatives and friends.
Ms. Melvina will be missed beyond measure.