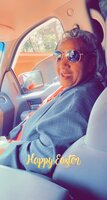 Melba Wilson
Melba Wilson, was born on June 27,1946 in Texarkana, Texas to the parentage of Willa B. Wilson Sr and Ella L. Johnson. Mrs. Wilson was affiliated with the Friendship Baptist Church. She departed this life on November 04,2021 in Texarkana, Texas. She is preceded in death by her Parents, 4 Brothers; Willie Wilson, James Wilson, Lawrence Wilson and LeOdis Wilson, 3 Sisters; Delois Robinson, Eula Wilson and Rosa Patterson.
She is survived by:
Ex-Husband: Noble Heath of Texarkana, Texas
Sons: Randy Heath and Eric Heath of Texarkana, Texas
God-Daughter: Gloria Jean Eatherly of Texarkana, Texas
Sister: Mae Gatewood of Texarkana, Texas
3 Grandchildren, 9 Great-Grandchildren, and a host of many other relatives and friends.