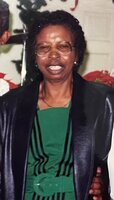 Dorothy Jean Johnson
Dorothy Jean Johnson, eighty-four, was born on April 18, 1937 in Warren, Arkansas to the parentage of the late Mimlas Pomphum and Laurenda Summers. She departed this earthly life on December 14, 2021 in Texarkana, Texas. She was a retired Housekeper at Holiday Inn and was recognized in the Texarkana Gazette as Housekeeper of the Year. She was preceded in death by her Parents; Husband; Wallace Johnson, Brothers; Willie Lee Gomer, George Gomer and Charles Gomer; Sisters; Katherene Gomer and Ruth Ann Gomer. Mrs. Johnson was well loved and was a "Aunt" to everyone. She will be missed beyond measure.
Ms. Dorothy leaves to cherish her memories;
Brothers: Joe Gomer of Oakland, California. Earnest Gomer of Texarkana, Texas.
Sisters: Irene Jeuitt of Oakland, California. Daryln Black of Hayward, California.