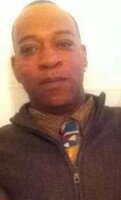 Andre Leon Hooker
Andre Leon Hooker, fifty-four, was born on February 20,1967 in Texarkana, Texas to the parentage of Versie Mae Hooker and Richard Bizzle Hooker. He passed away on December 16,2021 in Texarkana, Texas. Andre worked as a Landscaper for twenty-eight years under Taylor Lawn & Garden Services.
He leaves to cherish his memories;
5 Son(s): Derek Tremaine Coleman, Andre Rashad Evans, Jaylon Hooker, Jorden Hooker and Deuante Brown.
3 Daughters: Tareva Evans, April Coleman and Sheandra Brown.
Mother: Versie Mae Hooker-Cridell
Father: Richard Bizzle Hooker
Brothers: Carlos Ramon Hooker, LaKendrick Hooker and Rickey Johnson.
Sisters: Charlotte E. & Daniel Henderson Sr., Lawanja M. Neal and Victoria Evans.
Aunts: Barbara Harris, Patsy Richardson and Laura Spencer.
Uncles: John & Ella Cridell, Robert Cridell and Wilford Cridell.
Special Friend: J. Cridell
Along with a host of many other relatives and friends.