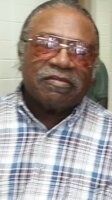 Charlie White
Mr. Charlie White, seventy, was born on December 08,1951 in Eudora, Arkansas. He departed this earthly life on February 22,2022 at his home. Mr. Charlie worked as a Truck Driver for Red River Lumber Company.
He leaves behind:
Wife: Doylean Leaks of Texarkana, Texas
Daughters: Charlene Gullatt of Texarkana, Texas. Vickie Leaks of Magnolia, Arkansas. Obieleane Harper of Texarkana, Arkansas. Hazel Gilbert of North Little Rock, Arkansas. Tonya Pace and April Jones of McNail, Arkansas.
Brothers: Robert Lee White of Michagan and Larry White of Texarkana, Texas.
Sisters: Willie Mae Maxon of Texarkana, Texas and Norma Jean Johnson of Texarkana, Texas.
As well as 21 Grandchildren and 25 Great-Grandchildren, and a host of many other relatives and friends.