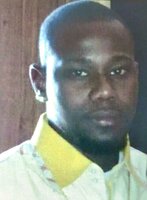 Arthur Eugene Lawson
Arthur Eugene Lawson, 37, was born Deember 16, 1984 in Atlanta, Texas. He departed this life April 9, 2022 at his home. He was preceded in death by his brother, Cory Richardson of St. Paul, Minnesota and his grandmothers, Savannah Taylor of Atlanta, Texas and Vada Perry of Linden,Texas. He was employed at Red River Lumber several years before his death. Arthur attended Atlanta High School in Atlanta, Texas and Wiley College in Marshall, Texas.
He leaves to cherish his memories a sister April Richardson of Dallas/Fort Worth,Texas area; a brother, Robert Richardson of Texarkana, Texas; his mother, Irma Richardson of Dallas/Fort Worth, Texas area;his father, Arthur Perry of Linden, Texas; and fiancee, Tywon Tyler of Texarkana, Texas; and a number of aunts,uncles, and cousins and friends.