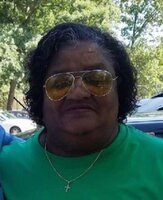 Lafayette Allen
Lafayette (Willis) Sutton Allen – Celebration of Life
Lafayette (Willis) Sutton Allen was born to the union of Hollis and Sammie Willis on December 25, 1948 in Paraloma, Arkansas she spent her childhood and early in Paraloma and White Cliffs, AR, where she was surrounded by twelve brothers and sisters. Layayette attended and graduated from Sevier County High, upon graduation she moved because she decided to join her brother and sisters in sunny California.
Lafayette met James Sutton in Santa Monica California in 1966 when she was babysitting for his cousin. They became friends and started to date and were later married in 1968. In this union they raised three children: James, Kelvin and Anthony in Venice California. In 1989 Lafayette met David Allen in Doddridge Arkansas through her niece Clara Allen and was married for 31 years until his death in 2021.
Lafayette enjoyed going to church and singing the gospel. She loved to be on the prayer line every night, Fishing and spending time with her brothers, sisters,and family.She also enjoyed traveling.
In the 1980's, Lafayette was led to Christ where she joined New Light Church of God In Christ in Santa Monica where she served faithfully under the guidance and care of Bishop B.R. Benbow.
Lafayette later moved to Bastrop, Louisiana for a while and then back to California then settled in Arkansas in 1987. Above all else her number one passion was winning souls for Christ. She never hesitated to ask someone to "Come and go to church with me" during conversation...even if it was her first time meeting them.
Lafayette was a member of Evangelist Temple under her sister, Superintendent and Pastor Sarah Deadner, for the several years before God led her to Pastor McCorkle out of California who she remained under until her death.
Lafayette was praying lady who loved God. She had a servant's heart and wanted to help anyone who crossed her path. Singing was one of her talents; she enjoyed beautiful singing and always wanted someone to sing the gospel and the word of GOD. She loved her family and cherished spending time with them. She was truly loved and will be greatly missed.
Lafayette Willis Sutton Allen was preceded in death by her husband David L Allen her parents, Hollis and Sammie Willis, brothers, Roy Chester Willis, Odell Willis, Hollis Willis, J.W., Carl Lee Willis, Joe Willis,and Louis Willis Sr. sisters Ernestine Banks, Pauline Williams, Sarah Deadner and Clester Owens.
She leaves to cherish her memory her 3 sons James Jr. (Shondra aka her Big Baby) Sutton of Lancaster Texas, Kelvin S. Sutton ( Lapatrick) of Plano, Texas, Anthony J. Sutton Dallas Texas 2 brothers Homer (Esther) and Larry (Sandra) Willis of Toledo, OH, 1 sister Vester Moore of Reno, NV. Also, remembering her in love are 10 grandchildren, 16 great-grandchildren and a host of nieces, nephews, cousins and friends.
…For I know the plans I have for you, declares the Lord….Jeremiah 29:11